Where is The Weaselhead?
The satellite image below shows the nearest two parking lots to the Weaselhead (note: the satellite image is several years old and does not show the new SW Calgary Ring Road under construction to the west of the park nor changes to the Glenmore Trail/37th St intersection. Please check a recent map for driving directions to the park.)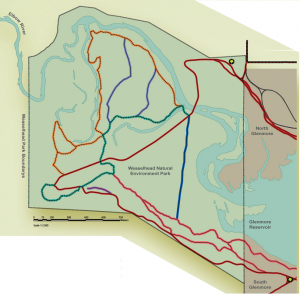 Where are maps of the trails?
There are large signs at  the entrances to the park showing the main regional pathway. A map that includes the unpaved trail system is displayed on the Park notice board at the foot of the hill at the south end of the bridge over the river (download a high res. copy of the map). The regional pathway is the only paved path (shown in dark red on the map to the left).  Please stay on the trail network and off the many 'unofficial' trails and short-cuts… the damage to vegetation and erosion that results is easily visible.
Can I bring my dog and/or bike?
Bikes and dogs (on-leash) are only allowed on the main regional pathway and not on the unpaved trails. However there is a  Mountain Bike Skills Park due to open in 2020 very close to the South Glenmore Parking Lot West, and there are off-leash areas close to both the Weaselhead and South Glenmore parking lots. Please respect these rules.
Washrooms and other amenities? There are no washrooms or other facilities in the Weaselhead (to avoid the risk of untreated waste contaminating the reservoir during floods). The nearest toilets are Porta-potties provided by the City in the Weaselhead Parking Lot, though there are seasonal washrooms available about a 5 mins walk east from here at the 'Snowy Owl' picnic area in North Glenmore Park.  If accessing the park from the south there are all-year washrooms in the South Glenmore Parking Lot West.