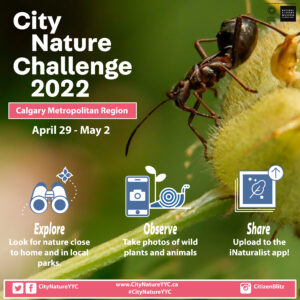 Weaselhead in Park Event
Saturday April 30, 2022
10am-2pm
Help Calgary compete in the 2022 City Nature Challenge !
Join us in the park to learn about the rich biodiversity of the Weaselhead and how you can use iNaturalist to help monitor this biodiversity. Visit us by the Barry Erskine Bridge (blue bridge) between 10am and noon where our Naturalists will show you common aquatic species found in our wetlands and help you upload your sightings to iNaturalist.
We will also lead a guided hike from 12:30-2:00pm starting in the North Entrance Parking Lot looking for birds, plants, insects and more! Our Naturalist will help you in uploading your observations to iNaturalist.
Can't join us in the park? You can still help Calgary get to the top of the leaderboard! Upload your sightings as apart of this year's City Nature Challenge!  JOIN CNC INATURALIST PROJECT
Registration not required, just show up!
There is no cost to any activities – but donations welcome!
Looking for activities to do on your own? Check out our City Nature Challenge Bingo!
Check out some of the highlights that we observed this year!
<iframe width="560″ height="315″ src="https://www.youtube.com/embed/ZY67SwCy3yA" title="YouTube video player" frameborder="0″ allow="accelerometer; autoplay; clipboard-write; encrypted-media; gyroscope; picture-in-picture" allowfullscreen></iframe>