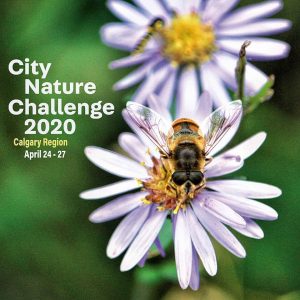 City Nature Challenge YYC is taking place April 24-27th!
Join the challenge and help document urban biodiversity in your homes, yard, and neighbourhood in the Calgary region.
How you can participate:
- Take photos of flora and fauna anywhere in Calgary, Airdrie, Cochrane, Okotoks, Cochrane, and Chestermere.
- Post them to iNaturalist.ca or the app! Join the project here: https://www.inaturalist.org/projects/city-nature-challenge-2020-calgary-metropolitan-region
If your prefer to use ABMI's NatureLynx app to contribute to your local projects, then you can use that!
April 24-April 27 is your opportunity to explore nature close to home, however, in light of COVID-19 it is important to emphasize the safety precautions you need to take to protect yourself and our community:
1) Look for nature close to home and limit your exposure to others wherever you may be. We discourage groups of any size. Please participate independently of your peers and connect online by sharing observations.
2) Wherever you're out exploring, always maintain physical distancing from other citizens by maintaining 2 meters distance from each other. Consider wearing a mask.
3) Wash your hands, use sanitizer frequently and never share your equipment (including your phones, cameras, books, and tools).
4) Limit any unnecessary risks that may compromise your well-being
5) Parks are for everyone's enjoyment. Use only the designated pathways and trails. Watch out for each other and give each other space. Please take only pictures, not plants or animals. Respect wildlife and keep your distance. Pack out what you pack in and use designated garbage bins. Keep your dogs on a leash and pick up after them. Respect the tranquility of other visitors by keeping conversation and music quiet.
There are ways to still participate while staying inside your home:
1) Upload historical photos to iNaturalist from your phone/computer from past seasons or memorable trips.
2) Help to identify observations other people upload! This is how we vet the data and make it accessible to researchers and scientists.
3) Explore iNaturalist, learn about your natural neighbors, and simply enjoy the many amazing observations people have posted from around the world.
The City Nature Challenge is all about showcasing urban nature and building community. Calgary will collaborate with 200+ cities from six continents to document plants and animals in our yards, homes, neighbourhoods, and natural areas. Let's explore our city with nature in mind while protecting our community.
For more information and resources please visit:
www.citynatureyyc.ca
www.facebook.com/citynatureyyc
https://twitter.com/CityNatureYYC
instagram (@citizenblitz)