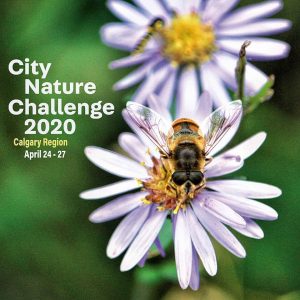 City Nature Challenge YYC April 24-27th
Thank you to everyone that participated in City Nature Challenge 2020 Calgary Metropolitan Region! 34 people sent in 376 observations from the Weaselhead and Glenmore Parks – finding 164 different species…. full report can be downloaded here.
CNC YYC 2020 had some truly outstanding finds and city-wide exceeded the 2019 results. The total number of observations made between April 24-27 was 5,555 (compared to the 4458 in 2019), made by 248 observers (144 iNat contributors last year). At this time 55% of the observations submitted have reached Research Grade* with more to come as we comb through the submissions in the coming months. With so many observations coming in, each urban area drastically increased their iNaturalist observation count. Calgary alone has now surpassed 30,000 iNaturalist observations! View the project to see all the stats from this year's event including the top observers.
*Research Grade observations are the highest level of data quality and enter into the scientific database that is free to use for research purposes. Captive/ Cultivate cannot reach Research Grade but remain on iNaturalist as biodiversity information.
Remarkably, more than 759 species were documented in the Calgary region. This includes all wild organisms and "captive/cultivated" flora and fauna that people documented with photographs and audio clips. There was no shortage of incredible sightings. Some highlights include a backyard bobcat and prey (featured on the global CNC infographic), a downtown raccoon (rare in YYC), a bizarre oil beetle in Weaselhead park, storm water protozoans, an urban moose in Fish Creek, and a plethora of birds (111 species). Prairie Pasqueflower (Pulsatilla nuttalliana), often referred to as Prairie Crocus, was the most observed plant species and collected data offers insight into its confined urban range. There is lots more to be investigated, including how COVID-19 restrictions may have influenced the geography for people exploring urban nature.
So how did we do in terms of other cities?
This year was not a competition between cities but a conscious effort to further appreciation of urban nature around the globe…however, the iNaturalist CNC 2020 Project page provides comparative statistics for the 244 urban areas that participated in CNC 2020 (Calgary's results put us in the top 50 cities). We congratulate the top performing cities: Cape Town (observations-34037), Houston-Galveston (Species-2974), and San Francisco Bay Area (Participants-2488).
Of all Canadian cities, we are proud to say that CNC YYC achieved more observations, documented the most species, and engaged the most observers! Throughout CNC, Halifax and Ottawa-Gatineau were top contenders and we congratulate them on their outstanding performance. In fact, all of the participating Canadian Cities performed strongly highlighting the rich diversity that exists across the country.
A huge thanks to Matt Wallace for organising our participation in this Challenge, and to TD Park People for its financial support.