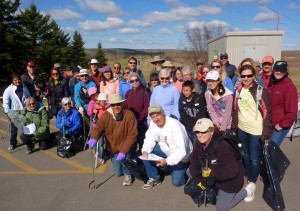 Volunteers Needed!
Spring's almost here, and summer's ahead.
It's time to clean the Weaselhead! 
WHEN: 
Sunday, May 7th, 10am
WHERE: 'The Weasel-shed" in the NW corner of the Weaselhead parking lot,66th avenue and 37th street SW.
WHAT: Approximately 90 minute walk through the park picking up litter.
***'litter-grabbers', bags, and a variety of healthy refreshments will be provided.
Appropriate footwear and a hat is recommended.
This program is in conjunction with the City of Calgary's River and Pathway Clean-up as well as the Canadian Shoreline Clean-up.
If you'd like to participate, please email:
president@theweaselhead.com and let me know how many others you may be bringing along with you.
Thanking you on behalf of the Weaselhead/Glenmore Park Preservation Society,
Paul Finkleman, WGPPS President and Clean-Up Co-ordinator