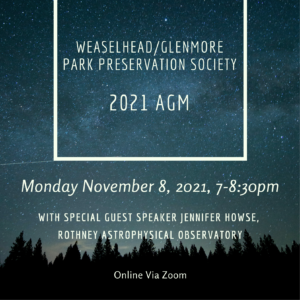 Guest Speaker: Jennifer Howse from Rothney Astrophysical Observatory
Missed the presentation? Watch it here! https://www.youtube.com/watch?v=fO1fn1a-WHI
Watch the 2021 Presidents report here: https://www.youtube.com/watch?v=6_bbNmkbV0I
Talk synopsis:
Indigenous ways of knowing and traditional scientific knowledge are articulated through land and sky connections. Protecting dark skies is one of the ways we can ensure all generations understand these connections to the natural world. Learn how clear dark skies provide us with a view of celestial objects which also offers us an understanding of our place in the universe.
Hear more about how Weaselhead Park Preservation Society plans to protect the dark skies of this natural area and its surrounding communities
Click the links to see the following:
2021 Weaselhead AGM Agenda final
2020 to 2021 balance sheet signed by auditor
This event is FREE but registration is required to receive Zoom link!
https://www.eventbrite.com/e/2021-agm-tickets-186031494207