Bats in the Weaselhead!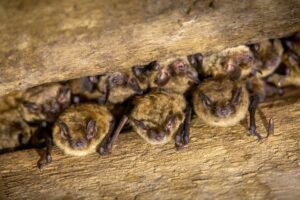 Learn all about Bats of Alberta with Susan Holroyd from the Alberta Community Bat Program.
Susan along with a Naturalist from the Weaselhead Preservation society will take you on a guided hike through the Weaselhead to detect and listen for bats in the park. You will learn first how to use the bat detectors, then head out into the park to listen for bats!
At this event you will learn:
– About the Alberta Community Bat Program
– Bat biology and why they are a conservation concern.
– White Nose Syndrome in Bats
– Alberta Bat species and their natural history.
The hike will be during dusk/dark so we recommend you bring along a flashlight/headlamp and warm layers as it can get chilly after sunset this time of year. Walking will be about 1-2km on a mix of paved and uneven terrain.
This event is directed at adults, but children are welcome to join.
This event is weather dependent, as bats do not like flying in the rain.
Maximum Participants = 20
Cost: $15
Members: $10 (Become a Member)
Get tickets here: https://www.eventbrite.com/e/bats-in-the-weaselhead-tickets-388381829507