Weaselhead/Glenmore Park Preservation Society's 22nd ANNUAL VOLUNTEER APPRECIATION PICNIC,
LABOUR DAY MONDAY SEPT. 3rd from 10:30 a.m. until 2 p.m.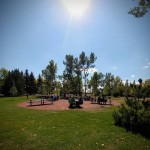 Because of ongoing construction at our usual Snowy Owl site, OUR EVENT LOCATION THIS YEAR IS THE PICNIC SHELTER AT SANDY BEACH. The official address is 4500 14A Street SW.
Please join us for a wonderful one-hour guided Nature Walk starting at 11 a.m. We launch into lunch, a Szechuan feast, shortly after noon, and yes, it's all FREE!
This is our opportunity to thank everyone who has helped out with our organization, no matter how big or small over the past few years.
PLEASE RSVP to Paul Finkleman:  pastpresident@theweaselhead.com  and indicate the number of people you'll be bringing.