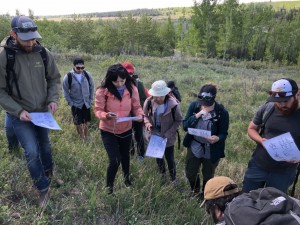 We had a great this past Saturday for our May Flower Count, led by Weaselhead Naturalist Cassiano Porto.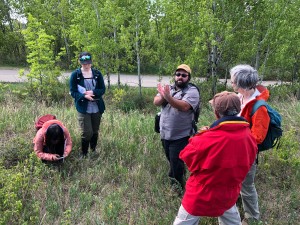 Photo: Brieannah Mollison-Read
Our first May Flower Count was held in May of 2017, and we plan to continue running them each year in order to record the specie that are currently flowering at this time of year. Data collected from this event will be used to monitor biodiversity in the park and to see how climate change affects the timing of flowering plants each year. This year we recorded a total of 50 flowering species (compared to only 39 species last year a this same time).
Here are a few of the species seen:
Gold Currant                         Bastard Toad Flax               Pale Coralroot                      Roughfruit Fairybells
(Brieannah Mollison Read)    (Rebeccah Schwab)            (Rebeccah Schwab)            (Rebeccah Schwab)
You can see a full list of the species we recorded here: mayflowercount specie list 2018.
Check out more photo from the day here: https://wgppsphoto.smugmug.com/Events/2018-May-Flower-Count/
Want to be involved in our citizen science Bioblitzes in the park this summer? We have 4 more bioblitzes happening throughout June and July. See more info and register here: https://www.eventbrite.com/e/weaselhead-bioblitz-tickets-45863129856
Thank You to TD Friends of the Environment Foundation for their financial support in making this event possible!