Weaselhead Snow Art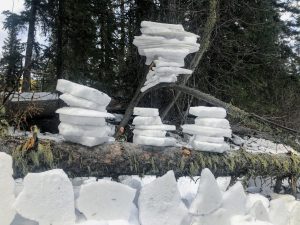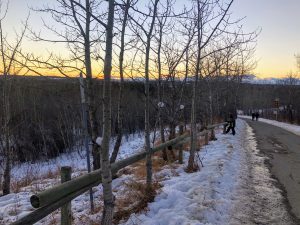 Snow art creation: Lisa Dahlseide + Family
This winter we want to bring the beauty of art into the Weaselhead! Inspired by the snow and ice sculptures by Andy Goldworthy, let's create similar installations throughout the park.
Between January and March show us your snow art creations in the Weaselhead (or backyard if unable to travel far) for a chance to win some Weaselhead prizes.
HOW TO PARTICIPATE:
Create snow/ice art in the Weaselhead and post your creations to either of the following  with #weaselheadsnowart & tag us:
Twitter – @weaselheadpark
Facebook – Weaselhead/Glenmore Park Preservation Society
Instagram – @weaselheadpark
Email (if not on social media) – events@theweaselhead.com
When creating your art we ask that you please:
Stay on designated pathways/trails
Use nature how it is. (ie. please do not pull twigs/branches off trees for your art)
Follow COVID restriction (small groups – distancing if out with different households etc.)
We are looking forward to seeing what you create!