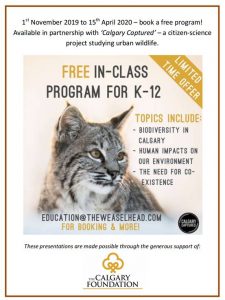 New free presentations offered for late fall and early next year. Click on graphic for details....
The Weaselhead/Glenmore Park Preservation Society offers both outdoor field trips in the Weaselhead and in-school programs. Learn more about these below or contact us if you would like a customised program (details at foot of page)...
IN-SCHOOL PROGRAMS - AVAILABLE THROUGHOUT THE YEAR
Bring Nature into YOUR Classroom Promotional Video
Get one free class program when booking one or more paid in-school programs between November - April.
K - Grade 9
Book by contacting Rebeccah education@theweaselhead.com or calling 403 870 6869.
For details on how to pay for a program click here.
(General description at foot of page; click program details to download detailed description and curricular connections)
 OUTDOOR FIELD-TRIPS - AVAILABLE MAY 1st TO OCT 31st
K - Grade 9 (split classes welcome)
Availability calendar: click here
____
COST OF PROGRAMS
In-school Programs $110/class; In-school Presentation to prepare students for an upcoming field-trip $95/presentation; Outdoor Field-trips $220/class full-day field-trip; $130/class half-day field-trip
Maximum 3 classes per day; maximum 30 students per class; *$5 charge for each student over 30/class max.
____
IN-SCHOOL PROGRAMS - Bringing Nature into the Classroom!
Bring the outdoors in! Grades 1-9 enjoy cross curriculum-based activities focused on hands-on experiential learning where participants interact with living organisms such as aquatic invertebrates, arthropods, decomposers and plant materials. The next best thing to a field trip - allow the students to explore nature's biodiversity within your classroom through interactive stations and activities!
These Programs were developed with the generous contribution from The Calgary Foundation
 ____
ORGANIZED GROUPS
Bring your Scouts, Girl Guides or any group to explore the Weaselhead, or have us come to your facility. We offer custom programs to meet your needs or help children obtain their badge. Participants get hands-on learning experiences while interacting with nature's biodiversity! Accommodating participants ranging in age from young children to senior citizens, allow the Weaselhead Naturalists to enrich your understanding and connection to Nature!
 ____
CUSTOM PROGRAMS
Our knowledgeable Naturalists can deliver a custom field trip to meet the needs of your classroom. Provide us with your expectations and we can compliment your in-school activities while exploring the Weaselhead and Glenmore Parks.
 ____